Atlanta was again making waves as the Georgia Aquarium ballroom set the scene for the post-COVID comeback of Families First's evening of recognizing extraordinary community impact and raising funds for its wraparound social services and innovative behavioral health counseling for children and families. Beginning with the vividly painted story of Families First's inventive case management model where clients are teamed with dedicated navigators and equipped with tools to manage trauma and mental health, emcee Brooks Baptiste of CBS Wake Up Atlanta put a fast-paced program in motion to pay tribute to outstanding individuals who are shaping our communities, and winning over the crowd of 350+ Families First supporters with his shout-out to his bride on the occasion of their 1st Wedding Anniversary.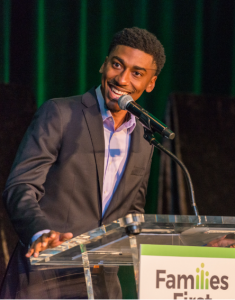 Wendy Stewart, President, Global Commercial Banking, Bank of America was honored with the Community Impact Award and recognized by Lauren Koontz of YMCA Metro Atlanta and Bentina Terry of Georgia Power Company for her active leadership in pulling together the business community and nonprofits to create a new campus in Grove Park (near Bankhead) neighborhood on Atlanta's Westside with a new school (run by KIPP), a YMCA early learning center and clinic. Kevin Greiner, President & CEO, Gas South was honored with the Social Equity Award and highly praised by Lauren Koontz, Ivan Shammas of Univision Atlanta and his Gas South team for his "fuel for good" focus on children's education, especially in helping families in low opportunity communities to catch up with STEM learning and other supportive initiatives.
Native Atlantan Dallas Smith, Founder, President & CEO, of T. Dallas Smith & Co. (commercial real estate brokers) was honored with the Making a Difference Community Service Award, and celebrated by Atlanta Housing Board of Commissioners member and Avison Young principal Kirk Rich for living by the Golden Rule and his pivotal role in innovating a new model for community redevelopment that promises to bring positive outcomes and is respectful of longtime neighborhood residents. Past Families First CEO Patricia Whatley Showell was recognized with the Legacy Award and hailed with heartfelt tributes from attorney and community leader Bernadette Weston Hartfield and PricewaterhouseCooper's Courtney Showell. Pat charmed the audience with her humility and hopeful outlook for better futures, remarking on the flexibility and ingenuity of Families First to ascertain and become whatever the community is wanting in that current time. Community advocate Mary Yates was especially honored with the Montag Family Volunteerism Award and talked about the "bear hug" of services that Families First provides its clients. Peter Williams of BlackRock was one of the first to compliment the Dining for a Difference team on commissioning Sharanda A. Wilburn, who chose the artist's moniker, "S.A.W., to paint original portraits of all five honorees in the style S.A.W. is known for with such portraits of former Atlanta Mayor Keisha Lance Bottoms and community organizer Stacey Abrams, as well as the newly painted Families First mural, "Threads of Resilience" located at 80 Joseph E. Lowry Boulevard.