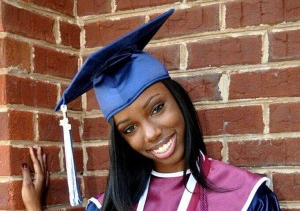 Teen Mother Doesn't Let Circumstances Decide Her Future
In the city of San Diego, a four year old named Miaja would wake up every morning and get herself ready for preschool. Before she left the house she would wake her three-year old brother, brush his teeth, comb his hair and pack his lunch. They would leave the house earlier than the other pre-school kids, because they had a 30-minute walk ahead of them. At the age of four, Miaja was raising herself and playing mother to her brother because their mother was unable to care for them.
When Miaja was 8 years old, she moved to Douglasville, GA to live with her grandma. She loved the house she lived in but hated the kids in her new class. She was constantly teased about her looks, which lowered her self-esteem. For the next five years, Miaja bounced back between San Diego, Douglasville and couches that belonged to friends; unable to find security or stability. Eventually her mother and brother moved to GA and got a trailer, so they could all live together again.
The summer before her sophomore year in high school, Miaja found out she was pregnant. "My body went warm", she said upon receiving the news. "I had asked my mother all summer to take me to the doctor so I could get on birth control but she never took me."
"I wanted an abortion. Me and my boyfriend saved every ounce of money we had for three months to pay for one." At the end of her first trimester, they had saved enough money for the procedure but upon hearing the heartbeat at the appointment, everything changed. "I heard the heartbeat. It was a whole person. So, I took the money we saved and bought diapers instead."
Amiyah, Miaja's daughter, was born a month early and Miaja's boyfriend was in jail at the time. Overwhelmed by her new duties as a mother and embarrassed by her current relationship, she was fighting to make it through the days. Her mother left their trailer one day and never came back. Miaja, now 17, and her new baby were totally on their own.
A month after her mother left their home, DFCS was called to the trailer by a neighbor and they placed Miaja and Amiyah in foster care. Miaja's foster family gave her the love and support she had always needed and never gotten. They helped her finish high school, helped her buy a car and pushed her to further her education. All the while, Miaja cared for her daughter while going to school and working part-time. "I don't know what I would have done without my foster family" she says.
Miaja is currently enrolled in the Families First Independent Living Program (ILP), so that she can continue to receive support and educational guidance, now that she's officially aged out of care. In the summer of 2014, Miaja was hand-picked to participate in the YearUp Atlanta program, which will help increase her knowledge of technology and give her options for a career in the future. "I know a lot for a 19 year old. But I also know that I will do whatever it takes to offer Amiyah the protection, stability and support I never had. Now that I have help, I want to keep going."