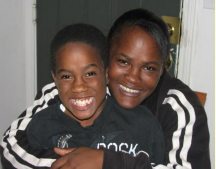 Several years ago, Chonita and Judarise experienced a family tragedy — the violent death of her eldest son. Due to the trauma and grief Chonita endured from this loss, her life spiraled out of control. Judarise was also angry and confused about the death of his brother, which caused him to act out aggressively in school and at home. Unprepared to cope with such devastating loss, Chonita and Judarise became homeless – living at shelters and with friends and family for almost three years. With the help of a local shelter and DFACS, Chonita and her young son were finally placed in Families First's Shelter-A-Family program.
The Families First Shelter-A-Family program is a permanent supportive housing program for chronically homeless individuals with disabilities including mental health, substance abuse and co-occurring disorders, and HIV/AIDS. The program provides supportive case management services to families in HUD-funded apartment units located in northwest Atlanta. The goal is to individuals to reduce and eliminate substance dependency and use; to achieve mental and emotional stability; and to move toward greater self-reliance. The program also seeks to promote child safety and development, as well as to prevent future homelessness among children, traumatized by homelessness, abuse and neglect.
Through Families First's case management support, families like Chonita and Judarise receive not only basic necessities like food, transportation, furniture and clothing, but also assistance in advancing their education, obtaining work experience and employment, parenting and caring for their children, re-establishing family connections and developing social skills and networks.
Since participating in Shelter-A-Family, Chonita and Judarise have been making tremendous progress in the healing process. By having a safe home and structure in their lives, the mother and son have been able to concentrate on communicating with each other more effectively to get through the pain of the past. Chonita is planning her future by attending job fairs and completing a job training program at Atlanta Workforce Development. Most recently, she enrolled at a local technical school. And since Judarise now has a stable home and a mother focused on his needs, his behavior is much better. Today, he is much more manageable at home and has learned to play well with other children in the neighborhood. In addition, Judarise's attendance and performance at school has improved remarkably.
Chonita says, "The best thing that Shelter-A-Family has provided my family is the ability to be at peace in our own space, and that's the best thing anyone can do for someone else. We're fortunate to get the support for whatever problems and issues come up. Families First has been there to make sure my son and I are alright. I can focus my attention on Judarise now because I know if there's ever something I need help with, Families First will always be there for us."