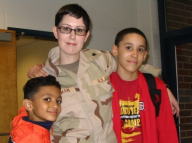 Homeless Mother Achieves Life's Mission
Michelle could have been the girl next door. She never experienced poverty or hard times growing up, but at age 18, she was struggling to make ends meet. With a three month old son, Michelle was attending college while working full-time. But after being laid off, Michelle found herself and her child on the verge of homelessness. Estranged from her family, Michelle had no one to turn to for help until a friend told her about Families First. Ashamed and afraid at the prospect of ending up on the streets with a baby, Michelle contacted and met with a Families First social worker.
The agency responded by providing Michelle and her son with a safe, nurturing home and support services at Weaver Gardens, a transitional housing facility for young, homeless, first-time moms. While Michelle went to school and worked part-time at Grady Hospital, Families First provided necessary support including life skills and parenting skills classes.
The agency also assisted Michelle in obtaining health care benefits and other available services. She even learned how to cook during her stay at Weaver Gardens!
Upon graduating, Michelle joined the Army so that she could continue her education and avoid living a life of poverty. While enlisted, she married and gave birth to her second son. At the end of her tour, she enlisted in the Reserves and eventually moved back to Atlanta with her family and purchased their first home. Inspired by her experience at Weaver Gardens, and wanting to help people in need, Michelle went back to school part-time and earned a Bachelors in Community and Human Services and a Masters in Social Work. Today she is a Program Director at a nonprofit agency, treating chronically homeless people with mental illness and substance abuse problems. Michelle is currently working on her Ph.D. in Human Services.
"Without the support from Families First, I don't know where I'd be today. My experience at Weaver Gardens is the reason why I became a social worker. I'm a true believer that supportive housing works for women who are in situations similar to mine, and by providing programs such as Weaver Gardens, Families First enabled me to fulfill my life's mission – giving back by helping those in need." – Michelle