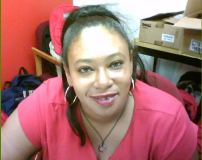 Young Mother Learns Responsibility and Independence
Chris grew up in a middle-class family and went to private schools. As a young adult she was in control and focused, but a substance abuse problem began to jeopardize her future. Chris struggled with her problem for several years before completing an in-treatment program. After successfully completing the program, the treatment facility referred Chris to Families First for posttreatment programs and services that would assist in her continued sobriety and success.
Challenged with finding safe housing and a stable environment, Chris determined that Delowe Village, a supportive housing program that provides families shelter, counseling and access to treatment and training programs, was the best option for she and her daughter. During the time Chris has been at Delowe, much progress has been made. The accessibility to Families First staff for guidance and support has been invaluable in helping her to gain confidence and the self-assurance she needs to prepare for the next phase of her life. Through individual and group counseling sessions, Chris now knows it is okay to ask for help from others. She is now able to deal with the shame and guilt of her previous mistakes, which in turn, has given her a sense of freedom from the past. In addition, the agency has assisted Chris with rent and utilities. Since Chris works full-time, Families First also provides child care assistance for her young daughter.
Since entering the transitional housing program at Delowe Village, Chris has been clean and drug-free. This has provided Chris with stability, consistency and the desire to succeed in life, even in stressful times. Having more self-confidence has also enabled Chris to plan for her daughter's future. She wants to go back to school eventually, but until then, she is working full-time at an upscale restaurant. Chris has been so successful in achieving her goals while in the Delowe Village program that Families First hired her as a part-time employee. Chris also volunteers as a peer coach for Families First's Shelter-A-Family program that offers supportive housing and services to chronically homeless families.
Chris says, ""Families First has given me the opportunity to grow up and take responsibility for my life. I have learned to appreciate everything in life because I have to work and struggle for what I do have."