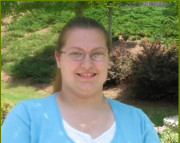 Teenage Mother, Rachel, has a Bright Future!
At the age of 15, Rachel's father passed away. Unable to cope with his passing, her mother's depression and substance abuse problem (brought on by her husband's death), Rachel left home. Shortly after, Rachel became pregnant. Because of her age and circumstance, Rachel was placed in a temporary state facility for youth, and her three month old son Joshua was placed in foster care.
After several months of separation from her child, DFCS initiated a plan to place the young mother in a home where she would live and learn to become independent and self-sufficient.
In accordance with a plan for Rachel to continue her education and become independent, Rachel was placed at Families First's Second Chance Home, a group home for teenage mothers and their babies. For three years, Rachel received the structure and daily routine necessary to carry out her responsibilities as a student and mother. In addition to learning every day activities like cooking, cleaning, and how to use public transportation, Families First provided Rachel with tutoring to improve academic performance, and parenting classes to improve her parenting skills and techniques. Rachel also participated in group and individual counseling. These sessions helped her to talk about issues and confront problems so that she could create a plan to resolve them.
At Second Chance Home, Rachel attended high school and worked part-time while Families First provided child care for Joshua. The agency also ensured that she and her infant son received proper medical care. While living at Second Chance Home, Rachel was able to do things she never had before like attend an Atlanta Braves game and take her Senior trip to Disney World. During her three years at Second Chance Home, Rachel has accomplished more than she ever imagined. Not only did Rachel graduate from high school, but she was a straight A student her Senior year. An internship at a veterinary hospital inspired Rachel to become a veterinary technician. She'll be attending Gwinnett Technical College for her degree. Rachel's goal in five years is to graduate from college, secure a good job and ensure her son has the best care and education possible.
"If it wasn't for Second Chance Home, I never would have made it out of high school, and I'm sure I would have had more children. Second Chance has taught me structure, which has made me a better mother. I've also learned how to set goals, and how to achieve those goals. I now understand that you have to do certain things in order to get what you want in life." – Rachel